1. Sunset and sunrise and the SERA definition of night
| | |
| --- | --- |
| Finnish time today, 07.02.2023 - Night ends: 07:37 - Sunrise: 08:24 - Sunset: 16:48 - Night begins: 17:34 | Times tomorrow - Night ends tomorrow: 07:35 - Sunrise tomorrow: 08:21 - sunset tomorrow: 16:51 - Night begins tomorrow: 17:37 |
A busy airfield close to downtown of the Hyvinkää city. The clubs Jukolan Pilotit, Hyvinkään Ilmailukerho and Mäntsälän Ilmailukerho operate from the field, and there are lot of visitors from other airfields in southern Finland.
During the summer there is a lot of glider activity using both winching and tow planes. When runway 04/22 is used for witch towing, there is a 6mm dynema winch line across runway 12/30, do not cross the line.
Hyvinkää airfield is a (Prior Notification required) airfield starting from 1.5.2021 . Before arrival, a PN notification must be made at https://efhv.yleisilmailu.fi . Landing fees according to the price list will also come into force on May 1, 2021. The price list can be found on the website www.hyik.net.
New asphalt runway surface in good condition.  RWY 12/30 normally not cleared of snow during the winter.
Coordinates: 603916N 0245252E
Runways: 04/22 – 1260 x 18 m – asphalt, 12/30 – 790 x 15 m – asfalttia/soraa
NOTE! Runway 22 and 30 right hand circuit
LDA: 04: 1260m, 22: 1260m, 12: 790m, 30: 790m
Radio frequency: 122,500
Airport elevation: 131 m (430 ft)
Fuel availablility: AVGAS 100LL and MOGAS BE98E5 available
Announcements: NOTAM
6. Sight seeing and services
Food/coffee available from the cafeterias of Jukolan Pilotit and Hyvinkään Ilmailukerho (self service).
Airport chief, chairman of Hyvinkään Ilmailukerho: Jukka Helminen (040) 5010 590.
Taxi: (019) 106 400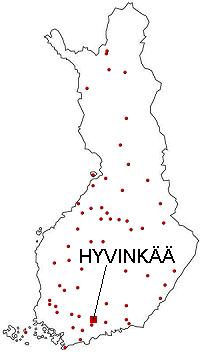 Visual Approach and Landing Video. Watch full screen and use close captions