NOTE!
Airport Closed.
More information from the number +358 20 7545 129.
1. Sunset and sunrise and the SERA definition of night
| | |
| --- | --- |
| Finnish time today, 24.03.2023 - Night ends: 05:28 - Sunrise: 06:10 - Sunset: 18:42 - Night begins: 19:24 | Times tomorrow - Night ends tomorrow: 05:25 - Sunrise tomorrow: 06:07 - sunset tomorrow: 18:45 - Night begins tomorrow: 19:27 |
An uncontrolled aerodrome operated by registered association Malmin Lentokenttäyhdistys ry. A prior permission (PPR) is required for all operations. Operations are limited to flights under visual flight rules (VFR) in visual flight conditions (VMC) during day and night 0700-2200 LT in accordance with environmental permit.
Flying in Traffic Circuit is allowed MON-FRI 0900-1900 LT, SAT 1000-1700 LT and SUN 1100-1700 LT when a prior permission has been acquired. Flying in Traffic Circuit is not permitted at other times or on public holidays (refer to AIP FINLAND GEN 2.1-4).
The aerodrome is located below EFHK CTR SOUTH airspace (class D), which is Transponder Mandatory Zone (TMZ). The airspace is also Radio Mandatory Zone (RMZ) and its upper limit is 700 ft MSL. Due to low flying altitude and proximity of Helsinki-Vantaa Airport special routes and procedures are published for approaches and departures as well as for flying in Traffic Circuit.
The aerodrome is busy with motor flying, ultralight flying and parachuting activity. Aerobatics and flying with Gliders or Paragliders is not permitted except for special occasions by a specific agreement.
The airport is in good condition. Winter Services may be delayed due to weather conditions. The availability of the aerodrome shall be ensured before operations.
Coordinates: 601514N 0250239E
Runway: 36/18 – 1280 x 30 m – asphalt
LDA: 36: 1280 m , 18: 1280 m
Radio frequency: Malmi traffic: 131,250 MHz; ATIS: 122,700 MHz
Airport elevation: 18 m (58 ft)
Fuel availablility: 100LL, MOGAS, JET-A1. Mogas is also available at a gas station next to incoming aerodrome road.
Information:  NOTAM
6. Sight seeing and services
Restaurant in the Terminal Building. Good public transport connections to Helsinki City Center.
Gun Gustavsson +358 40 7200040 (Airport Chief)
Aerodrome Service +358 20 7545129 (available during opening hours)
Malmi Kanair +358 400 539393 (Fuel service)
Shell Aviation Malmi +358 40 4841241 (Fuel service)
The operator's web page: http://www.efhf.fi.
All the pilots operating at Helsinki-Malmi aerodrome are obliged to familiarize with the Aerodrome Operating Procedures which are published on the above-mentioned website and to follow them in all operations.
You can get the operating procedures from here: EFHF Operating procedures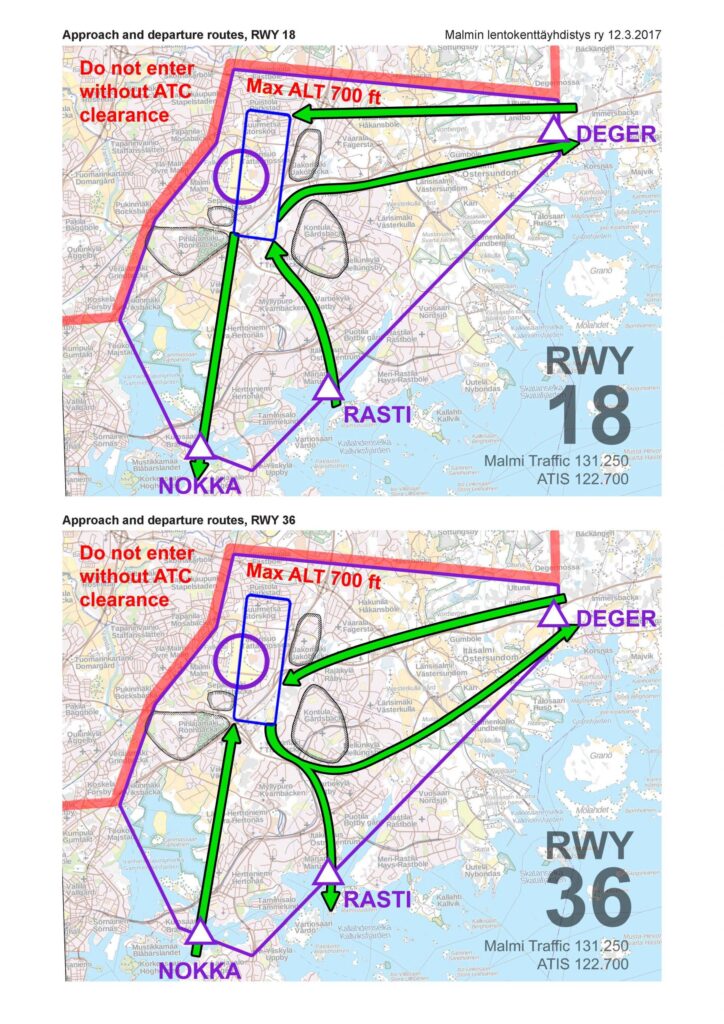 EFHF APPROACH AND DEPARTURE ROUTES, CLICK TO OPEN PDF FILE